Culture has a very strong direct

effect on the society, it's a ubiquitously consented truth.Why is culture important to a society ? This is not a small topic its impossible to explain in one single sentence.I realized the importance of culture when I went exterior from my homeland,ages ago when I was a student in undergraduate programme I used to pursue a part time job for a MNC. I worked with them for continuous 2 year 7 months.I used to go to various cities for that job company used to pay train fair,food,and a handsome money per event.Usually I used to get 1 event in month.So I was enjoying that as a college student with a fresh mind.Since my childhood, I am a good traveller & I visit place with an intention to know about dissimilar
acculturations still now

I have the same outlook.Actually by birth I am a Bengali hindu I was born in the Indian state of west Bengal so I was wonted with my ethnic culture.Many readers of my blog will say what is new with this writeup, whatever you are saying these are quite normal things, yes I admit with them initially but later they will know the importance of ethnicity when they will read my whole write up. I was born in the muslim majority district, which is cognized as Murshidabad in west Bengal. So sooner or later if you follow our blog IUFE and some other blogs ( where I shared link of our blog ) you will know the vast experience what

I had with the outlanders in my homeland.Okay leave it now come to the point, Once I went to Bhubneswar the capital city of Orrisa State of Indian Union.
After finishing my work, there I got one full day to enjoy so I started to dig about the cultural difference of west Bengal & Orissa .I always respect the different ethnic culture when I go to a different place I don't want to impose my beliefs on them rather than that I adapt with them & I consume myself to grasp their ethnic culture.I visited many places of Orissa & I ascertained huge difference of the oriyas & Bengalis though both state has hindu majority & both are controlled by the central govt of india. Not only that both state shares

borders with each other but an immense cultural variance is obtrusive between these two neighbors. This is the importance of ethnicity whether the immigrants accept this truth or not, truth will be admitted as truth not as lie.Firstly after finishing the work I went to a restaurant, I tried some ethnic foods those are not so well as per my tongue , but how can I say that they are bad and we are good, just right next to me an oriya person was staring at me & following my activities, I have a principle in my life I never waste food, I came from a very poor family, i was an occupant of a very remote village of west Bengal ,Now my family is a millionaire, I live my life in a lavish way but it was just a nightmare for me before 1997, so for me wasting a plate of food is like wasting one thousand bucks. Finally the oriya person asked me are you a Bengali ? I shake my head & said yes. He said why did you take oriya food though the restaurant provides Bengali foods, I said to him with utmost respect.Sir right now I am in Orissa so I am an oriya, I will respect oriya culture I will never try to penetrate my own culture on oriya people.He was so astonished he just left his chair,came and joined my table.we became friends for that certain time.That person was a govt employee working in healthcare sector in Orissa, he said the way you respect our culture most of the outlanders doesn't he blamed the Biharis , the people of UP ( Uttar Pradesh, the largest state of india in terms of population ) also blamed the Bengalis. I asked him why do you hate them and consider them as aliens in your homeland. He said with red eye, that brother not only they come here but also they try to dominate us but we oriya

people

are quite concerned about this cultural ethnic ablutionary, so kept eye on it. He said most of the biharis , Upians after entering Orissa they work & establish here for years after years they don't return to their homeland also they don't adopt our food, language, and culture on the contrary they propagate their culture all the time. Finally what happens they transform a whole oriya dominating locality into their culture, so culturally the oriya people leaves the place & they take over our ancestral areas. Would you allow this to happen in your soil ? he asked this question to me I said no with plausive way.This same cancer multiculturalism is mocking the Danes in the Denmark, Swedish in Sweden, whole UK

is affected by this multiculturalism, Nederland is suffering for the Moroccans immigrants, The native Australians are suffering for the Turkish immigrants, Germany , USA, many European countries are suffering for the Turkish immigrants. We know the problem of ethnic people of France for the Algerians, not only these people entered France as intruders but also dominating the liberal politics of France. India is suffering for the illegal immigrants of Pakistan,Bangladesh in a heavy way.These immigrants arrogate a country as

guest refugees

and

finally attack the host country and transform it into their way. They don't have minimum respect to

these host country's constitution ,law, culture and structure they know only one thing how to promote their goals & convert the land in their way. Israel is suffering in the same way people from Syria, Palestine and many middle easterners enters & violates the Israeli interests. Though there are some exceptional cases we postulated from the history, sometimes multiculturalism is beneficial to a state. Take the example of The land of Opportunity USA , this

country is superpower since many decades.Just before the 1940's it was not the superpower Why did they successfully snatched the position of superpower ? as they allowed immigration of skilled people, those who believes in democracy.They provided more opportunities to a skilled professional in their land with good money & awesome infrastructure.They got the result they increased their power more and more that's why their land is known as the Land of Opportunity.We have to admit one truth that upto certain level multiculturalism is fruitful. I am explaining some points how far a country can support multiculturalism.
HOW FAR A COUNTRY CAN ALLOW MULTICULTURALISM :
1)
Whenever

the migrants

will add value to the country's growth will not be a burden for the country .


2)
Migrants should respect the natives as the progenitors of that soil & respect their culture with utmost care.
3)
Migrators

should integrate with the mainstreme culture of the natives not force them to believe in

their culture.
4)
Migrators should not disrespect the law, constitution, and rituals of the host country , if they have any problem they can leave and go back to their homeland.
5)
Migrators should not involve themselves in separatist movements, anti national activities which will harm the country's interest.
6)
Migrators should not send all the earned money to their homeland , shall leave the host country after spending some long time there.
Specially in india I have seen some communities really became a value adder for our country like the Parsis, Tamils of srilanka,jews of bagdad, portugese of goa, Armenians of india, Bhutanese Hindu refugees, Myanmar Hindu Refugees

they entered in india with a limited population took the modern education & integrated with liberal mainstream culture of Indian Union. Being a native of india I never find anything wrong with this we can welcome more people like them who will come to india add value in this country's growth & assimilate with us with their religious faiths. On the other hand we see that Bangladeshi

Muslims

enters india

for their own political goal to connect Bangladesh & Pakistan with a corridor through the mughalisthan project .How can I accept them as my fellow Indian brothers ? whose main aim is to dismantle this country's

stability

by

changing

the demography of india.Even the Bangladeshi hindus they are also a big threat to Indian economy.Presently Bangladesh has more or less 30 million non muslims they always want to settle in india instead of demanding a separate state for procuring their self interests
.
In the same way Pakistan has near about 15 million non muslim population if they also demand to settle in india where shall we go , shall we all natives give all our assets to them and become destitute. This cant be a feasible solution, here I feel a huge pain.Many muslim country send a large no of migrants to a non muslim country & try to change that country's politics by breaking the laws of that country. They give birth of uncountable no of babies, and perform various types of jihad to convert the natives into islam but still the international community allows them into their soils just because of maintaining the business tieups.I ask a question to the visitor of this blog Do you really think is it

a

good deed ? answer is a hell big no. The more it will happen the more regional movements will grow whther it is BODOLAND of assam , EDL ( English Defense League ) of England,SION ( stop islamization of nations ) ,Hindu Samhati ( West Bengal ).I don't directly support the Ander's Breivik but whether the migrants accept it or not it will grow more and more.More the migrants play with the local sentiments more they will have to suffer, it's

like tit for tat. I give thanx to the dutch govt for Restricting the migration from arab nations. I also urg the British Govt to look the anti national migrants as a threat to their country & deport them from their English soil.
DEM
ERITS

OF OUTLANDERS AND MULTICULTURALISM :
• When populace try to win over other racism/ethnicity's/etc. for certain senses of superiority.
• From that come racial tensions and social tensions.
• When people don't recognize, they will misunderstand and make something bad out of it and start seeing others as lesser than them.
• People will begin to get persecuted and start being used as scapegoats.
( Tony Bamber
Addressing People Against Multiculturalism in Sweden
in Annual Salem Demonstration )
In a country there can be many cultures living side by side. This is due to countries opening up, air travel becoming cheaper and easier which have allowed more and more people to go to other countries. For instance, Britain has seen migrants from all over the world from all walks of life; students, doctors, engineers, information technology professionals, nurses and many others have come to Britain to live and work.This has allowed multi different cultures and ethnic groups to live together in a country like Britain. Britain has seen waves of migrants from all over the world; from Africa, India and other European countries. There are two aspects of this development. Firstly, a multi ethnic country can be good a country. This allows cultural diversity; people from different countries can contribute in their own way. For instance, Britain has a large Indian population and many of them are doctors. These Indian doctors have contributed significantly to the health of the country. Many work as consultants, general practitioners, researchers, all contributing to the health and welfare of Britain. Another example is Indian migrants from Africa have contributed to building businesses.Hence the positive aspects of various cultures in a country can contribute to the country's social and economic development. Alternatively, if large groups of different cultures accumulate, in can cause social friction. The native population can see the immigrants as their competitors taking their jobs, houses, benefits etc. In addition, if some of these immigrants refuse to integrate, this can cause further social tension and civil unrest, in some cases riots.
Finally, I would like to mention that different cultures and ethnic groups living together have more social benefits than negative development. Britain is a prime example of such a society where many ethnic groups and cultures exist and live together. Britain has witnessed migration from various countries. In any city of Britain, one is able to see people from various ethnic groups living together. These groups have contributed to society in all aspects be it health, business, education or technology.
Britain is truly a multiethnic country. Rarely Britain has seen social unrest due to multiculturalism; this is not to say that tension cannot build up. Waves of immigrants are coming to Britain from Eastern European countries and people are now complaining about Britain's ability to accommodate them all. It's time that Britain policy makers take tough action and make immigration harder.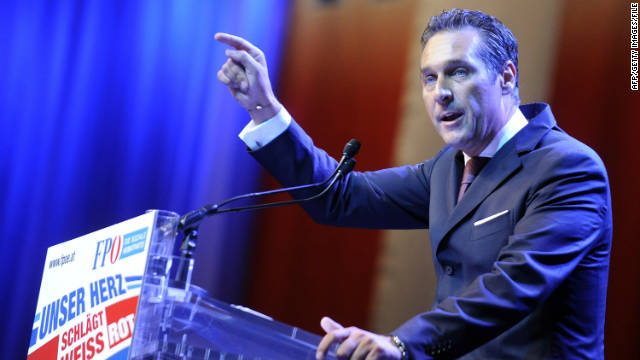 Heinz-Christian Strache, leader of the Austrian populist Freedom Party (FPO), was re-elected its president on June 18 in Graz.Who directly opposes immigration from muslim countries.
SOLUTION AND CONCLUSION OF MULTICULTURALISM :
1)
Mass deportation of illegal migrants from a civilized country.
2)
Formation of a state only for illegal and anti national migrants,

approved by United Nations where all civilized democratic countries will deport the burdensome population.
3)
Limiting the immigration to a certain stage so that it will not hamper the interests of the natives of a country.
4)
Whenever a migrant community produces threats to the indigenes, A state should have the authority to protect its Bhumiputras ( natives ).
5)
Every democratic civilized non muslim country should control the patrolling car at the border with an enemy nations so that they can check the infiltration otherwise that country's

sovereignty will be under threat, a satellite state will control the country from outside.
6)
Natives should be always united together and govt should aware the natives so that they should not cooperate with the anti national people of that country.
7)
NATIVES, GOVT, EVERY INSTITUTION SHOULD OUTCAST THE ANTI NATIONAL PEOPLE WHO BECOMES A THREAT TO THE COUNTRY'S SOVEREIGNTY , WHO VIOLATES THE LAW AND ORDER OF THE COUNTRY, WHO DOES NOT FOLLOW ANY FAMILY PLANNING AND FORCE A PLACE TO HEAD TOWARDS A DEMOGRAPHIC CHANGE.THOSE WHO VIOLATES NATIONAL INTERESTS THEY SHOULD BE STOPPED BY ANY MEANS.EVEN THE WAY MYANMAR IS SOLVING THEIR ILLEGAL MIGRATION PROBLEM THAT IS ALSO TO SOME EXTENT RIGHT.
The more extremist migrators will invade a civilized country we will see the rise of people like Tommy Robinson( England ,EDL ),Tapan Ghosh( Hindu Samhati, west Bengal india ), Anders Breivik ( Norway ) , Terry Jones ( USA ) , Robert Spencer ( USA ) ,Geerth Wilders ( Nederlands ), Anders Gravers ( Denmark , SIOE ) , Ripon Dey and Gobindo Chandra Pramanick ( BNHGA, Bangldesh ) , P.Wathya Murthy( HINDRAF, Malayasia) , Zemira Eli Natan ( USA , IUFE) , Veerji Kohli ( Pakistan , IUFE) and More.
Anders Breivik After The Decree of The Oslo Court .
Lastly i will end my article with this great sanskrit solka:
Yada Yada Hi Dharmasya
Glanir Bhavathi Bharatha

Abhyudhanama Dharmasya

Dhatatmanam Srijamyahan

Paritranaya Sadhunam

Vinashaya Cha Dushkrutam

Dharmasansthapanarthaya

Sambhavaami Yuge Yuge!!!